Family ministries director
I have been active in children's ministry for over 10 years. Most recently I was on staff at The Point Church where I was the Children's Ministry Coordinator for 6.5 years. It was during that time that I fell in love with kids ministry. I have been married to my husband Dave for 14 years and we have three boys, Reece (9), Chase (9), and Cole (2). I'm excited about what is going on at Mosaic and serving as the Family Ministry Director.
I am currently pursuing another post graduate degree at United Theological Seminary. I hold an MA in International Business and Management from the University of Bradford, UK and also BSc. Biological Science from the Kwame Nkrumah University of Science and Technology, Ghana.

I did bi-vocational work as a Banker and a Youth Pastor for a decade in Ghana. Also, I once served as a President of Independence Christian Fellowship and Prayer Secretary of the Inter-Halls Christian Fellowship.

I am married to Dr. (Mrs) Anita Akosua Osei-Manu and blessed with a son, Leroy Perez and a daughter, Graciela.
I am passionate about helping people intentionally grow in their relationship with Christ. This happens by finding their next steps along the discipleship pathway through personal connections, engagement, and using their God-given Spiritual Gifts to serve each other, the church, and our community.

I have been with Mosaic Church since the very beginning. Also, I'm an adoptive mom to 3 kids - Brayden, Matthew, and Emily and have been a foster parent for 15 years. You can find me welcoming guests on Sunday mornings while my kids help serve behind the scenes. If I'm not serving the church, I'm likely on a ballfield or court cheering on one of her kids!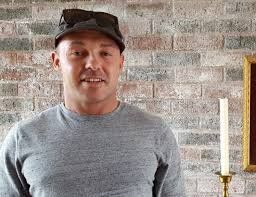 I'm originally from western New York but I've lived in the Dayton area for the last fifteen years. I work for Joshua Recovery Ministries and attend school part time. My wife, Lisa, and I help with set up and tear down at Mosaic. We live in Kettering with our two dogs, Brownie and Bianca. Lisa and I love being a part of Mosaic and look forward to what God is doing through our dynamic church family.
Director of online worship
I'm an Army brat, so I claim the world as home, but I'm a true southern girl at heart. I've lived in Dayton for 16 years.

I'm a worshipper through and through, but since stepping down from my worship leadership position, God has given me the opportunity to disciple in new and creative ways.

I'm an Air Force Veteran, and when I'm not serving with Mosaic, you can find me at the Wright Patterson AFB Chaplains Office serving our Airmen as the Protestant Parish Coordinator for WPAFB Chapels.
I am passionate about seeing people live into a transforming relationship with Jesus. My full-time job is IT support for Dayton Public Schools, and I have served in ministry with Mosaic as being the architect putting together online worship.
I'm thrilled to serve on the Mosaic Preaching Team. Also, I serve as Vice President of Development for United Theological Seminary. I'm a finance person by trade, but also have a passion for seeing people grow and be transformed by the power of God's Word. I never thought she'd find myself in the pulpit, but a couple years ago, God clearly called me to be His mouthpiece and started opening the doors for me to preach His truth. I married to Pastor Roz Picardo, and we have soon to be 3 daughters, Lily (3), Gabriella (1.5) and Hannah (June 2020)
My name is Maurice Kidd. I am an Akron, Ohio native and have lived in the Dayton area for the past 15 years. I am a proud graduate of Central State University where I received my bachelor's degree in music education. I'm also an alumni of Antioch University Midwest where I received my Masters of Education degree in special education. I currently work in the Dayton Public School system as an Intervention Specialist working with children with learning disabilities.

For a while I had been feeling God preparing me for something BIG. When I was approached with the opportunity to join the Mosaic team as a worship leader I knew that it was a God thing. I'm truly humbled to be able to lead God's people in praise and in worship. I'm most excited about the way God is going to use His people from all different cultures and background to build His kingdom. To be apart of something so diverse is amazing. I can not wait to see just how God moves through Mosaic.
I'm Wayne Botkin and my wife Tricia and I live in Springboro. We have five nieces who we enjoy supporting in their musical arts and variety of sports as well as with special weekend over-nighters and shopping excursions. Yeah, they are amazing and we get to spoil them! Tricia and I met at Ohio State and she finished up in Aeronautical Engineering and me in Business/Human Resource Management.

Why Mosaic? Growing up, church was mostly an amazing experience. In fact, I remember wondering, "why isn't everybody in a church somewhere?" I believe that when you follow Jesus, it is the most wild ride possible in life and most fulfilling at the same time. Along the way, you're going to meet an absolute cross section of people and especially "Church" then, should be a picture of heaven on earth. My favorite scripture is when Jesus says, "I came that they may have life, and have it to the full." ~ Book of John 10:10… Church needs to be a place where uplifting conversations happen quite naturally, real connection with the creator God takes place and meaningful service to the world is like breathing.

One of the greatest experiences we've ever had was a trip to Seoul, South Korea just a few years back with a group of young adults from Christ Church. We met up at a conference with 500 other young people from 49 different countries all there to learn together about how to best share the love and power of Jesus Christ with the world. As each continent took a turn leading in worship in their own language and translating into English, we got a taste and a view of what Heaven will be like--different women and men from all over the world worshiping and praising God together. The only difference in heaven will be that when we meet in small groups, no interpretation will be necessary!

Tricia and I are so excited to be helping start-up Mosaic Church.
I grew up in western New York as a first-generation Sicilian-American. In 2003, I earned his Bachelor of Arts in Religion from Houghton College and in 2007 a Master of Divinity from Asbury Theological Seminary. I graduated with a Doctor of Ministry from United Theological Seminary in 2014.

During my senior year of college, I entered the ministry as a military chaplain, serving four years in the Marine Reserves and five years in the Navy Reserves. While attending seminary, I recognized a call to serve the local church. I have experience in all facets of church life, through roles ranging from church custodian to associate pastor to church planter and executive pastor of church planting at Ginghamsburg Church, who has three campuses and worships over 4,000.

In addition to my work in the church, I lead a consulting group for church planters/pastors called Picardo Coaching LLC and enjoying writing to help Christians and Church leaders on their spiritual journey.

More recently, I work bi-vocational at United Theological Seminary. He serves as Director of the Seminary's Pohly Center for Supervision and Leadership Formation, a mentor in United's Doctor of Ministry program and an affiliate faculty member and now as Dean of The Chapel.